1. When should I arrive for my appointment?

Please arrive 5-10 minutes before your appointment to give us enough time to customize your spa experience.

2. What kind of credit cards do you take?

We accept Visa, MasterCard, Discover and American Express.

3. Can I cancel my appointment? If so, how?

C
ancellations made less than 24 hours prior to your appointment will incur a charge of 30%. No shows will also incur a charge in full. No shows for gift certificate appointments shall be considered redeemed in full.
4. How much tips should I pay after a spa service?

20% tip is customary for excellent services. Tip in cash is highly recommended.

5. Do you accept refunds?

We do not accept refund for spa services, gift cards or spa packages, but unused products in their original packaging may be returned within 7 days for a full refund.

6. Can I ask for exchange of purchased products?

If you would like an exchange for your products, the exchange must be made within 7 days after the product is sold.

7. Should I inform the therapists and the spa of my health conditions before starting my service?

It's very important to inform the therapists and the spa of your health condition, especially ingredients and products that you are allergic to, or any kind of sickness, diseases you have. Soothing Zen Day Spa is not responsible for the consequences if you did not tell us your health condition in advance.

8. What to do if I feel uncomfortable during my spa session?

During massage, facial or any other spa session, it is important to let your therapist know immediately if you are feeling uncomfortable, such as tingling of the skin, pain caused by too much pressure during massage. You promise to let the therapists know immediately when you feel any discomfort during spa session.

9. Is Soothing Zen Day Spa a legit and professional spa?

Yes it is. The spa only hires professional therapists and you understand that this is a legit spa and any sexual behavior is not allowed here.



10. How can I find parking?



Soothing Zen Day Spa is across from Charlie Brown Restaurant on Main St, Millburn, NJ, and you can easily find parking spaces by the corner of Main St/Essex St.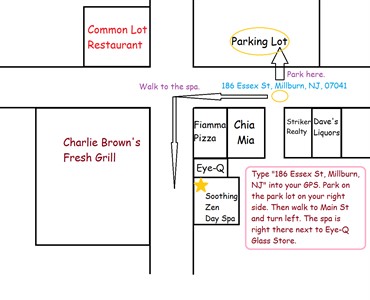 11. How can I make an appointment?
Same day appointment can only be made by calling. You can also make appointment online. All of our appointments will start and end as the scheduled time.

12. Should I bring valuables to the spa or not
?
Please leave your valuables at home. While we aim to ensure the safety of your belongings, we are not responsible for lost or damaged personal items.



13. Do you accept Spafinder and Spawellness Gift Cards?
We take these gift cards with a restriction. Spafinder and Spa Wellness Gift Cards can only be used on regular days but not for holidays. We do not accept Spafinder or Spawellness Gift Cards for memberships.